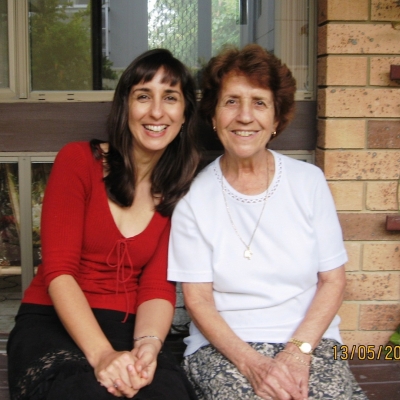 MARIA
My Star to Remember is my Mum, Maria. She was the glue that held our family together, a strong beautiful person who steered us all through any difficult times in our lives. Despite the difficulties she experienced in her early years in Malta,
Mum always managed to soldier on with a cast-iron will to make the most of her life and the opportunities it brought. Mum always said a happy disposition is a precious thing to have and it is a positive outlook on life that gets you through the difficult times. She had the most unique observational skills, crazy and outrageous, which would send anyone in her company into hysterics. All my friends loved Mum as she was always ready to have a joke and was always on the lookout for fun.
Mum was the consummate home-maker and made our house a beautiful and happy place. Her savvy accounting skills were an asset as Dad built up his dental prosthetist practice. Singing in all forms was always a passion for my Mum. She was always singing and whistling whenever she was cooking, cleaning or gardening and she did this effortlessly. Mum's hilarity and sense of fun made a huge impression on my children and they will always remember the influence she had on them when they were younger. She taught me everything about being a good mother and a good wife – about love, devotion and sacrifice.
Tragically, when Mum was 70, in 2001, the first signs of Alzheimer's Disease began to emerge. Early signs of forgetfulness and vagueness appeared things like forgetting appointments or mislaying money. These signs remained the only feature of her illness for another 2 or 3 years however changes in her demeanour were also evident by this time. Mum would often tell me she had a feeling of angst but she didn't know why. She was clearly sensing her fading abilities and we noticed that she had withdrawn from her choir and church activities. She was getting agitated a lot more frequently and would sometime lose her temper in ways we had never seen before. Dad bore the brunt of most of these behaviours but supported her throughout this time. When she was officially diagnosed with Alzheimer's, she wouldn't accept it, however agreed to start medication to slow the progress of the disease. As each year passed, her symptoms worsened. Her memory loss increased to a substantial degree, affecting her ability to function independently. Dad was by this time doing all the cooking and financial management. Mum was still trying to cling onto her independence and was determined to continue shopping and housework activities, which she did for some years after her diagnosis. She still loved coming to my house and helping me with my chores. I was receiving increasingly confused phone calls from Mum, some in the middle of the night, and we had to watch her more carefully to ensure she was safe. As her illness progressed further, stress levels in our family rose incredibly. Throughout this time, I need to say there were many many happy times and although we could all see Mum was deteriorating the least we could do was be there for her, as she was for us all our lives.
By 2010, Mum's illness prevented her from safely living at home any longer. She had been wandering and this was taking a huge toll on all of us. Dad had done a magnificent job looking after her for all those years but the situation was becoming impossible. I began the arduous and emotionally draining task of seeking suitable accommodation for Mum where her needs would be catered for. Of course, adoring my Mum as I did, my actions were accompanied by guilt so enormous that I could hardly carry out what I needed to do. My concern for Dad's health and well-being, and Mum's safety, helped me persevere.
We found a beautiful place for Mum where she would be lovingly cared for the next 20 months, however it was a terrible time for our family, a break with tradition, an upheaval of Mum & Dad's lives, a painful realisation that Mum was getting worse and not better. Coupled with this was a fear, a very real fear, for the future.
As Mum's condition deteriorated so too did our hopes as we moved closer to acceptance of reality. When Mum was in the early stages of her illness she experienced the catastrophic reaction of knowing she was no longer coping. As her illness progressed and her insight decreased, the rest of us travelled the road of grief, anger, denial as we watched her deteriorate. It's a painful journey, but we had the opportunity to say goodbye to Mum over the years as she slipped slowly away from us. It's clear why this disease is referred to as the Long Goodbye.
We managed to bring Mum home for day visits, and her last visit was Christmas 2011. Early in the new year it was decided to cease Mum's medications as she was having difficulty swallowing them and many of them had reach their maximum effect. For 3 weeks her condition improved and we lived in false hope that she would stay this way. Her facial expressions returned and she looked more like the old Mum that we missed so much. At the end of January however Mum had a seizure which took away her ability to walk and feed herself. Her communication worsened and she was increasingly sleepy. She hung on for another 4 weeks with Dad and I visiting her daily to help her with feeding and to just sit and hold her hand. The one thing she never lost was her ability and willingness to kiss. She loved to peck our cheeks and our hands and always said "I love you" to us, a phrase which passed her lips many times during her life. Right to the end, despite her pain and level of debilitation, she was filled with love and it's the memory of her love that makes us smile when we think about her.
Amanda, Hunter Region NSW