EVENT DAY VOLUNTEERING
There are many volunteer positions available on the day and throughout the year. Volunteering is a great way to support us and make new friends!
For more information and to join our amazing team, please contact our Volunteer Coordinator on
02 8875 4652
memorywalk@alzheimers.org.au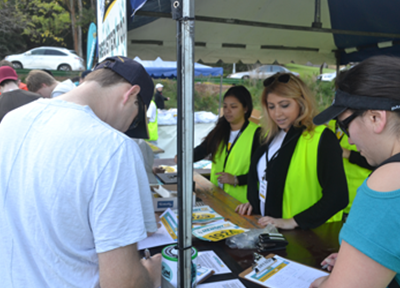 VOLUNTEER INTERN OPPORTUNITIES
Do you need event experience, marketing experience or volunteer hours?
From our internship program you can cxpect to gain valuable event and marketing knowledge and experience to assist you in your study and future career prospects, as well as a behind the scenes look at events.
Do you have?
Good attention to detail
Experience with social media
The ability to work autonomously and as part of a team
Do you live here?
Wollongong
Port Macquarie
Hunter
Sydney
Reporting to the Alzheimer's Australia NSW fundraising team you will be required to have:
Good verbal and written communication
Well-developed interpersonal skills
Able to manage time and prioritise work
Flexibility and adaptability
Honest, trustworthy, loyal
More information
This is a Volunteer Intern role
Hours to be negotiated, dependent on placement requirements, no more than 15 hours a week
Commencing September 2016 until June 2017 or negotiable