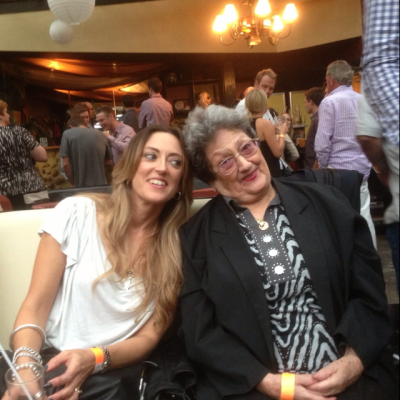 MARY
My star to remember was my mum, Mary. Mum was the most generous, sharing, kind-hearted soul you could know. She had to share everything. "Not worth having, if you can't share things with others", she would say. She would keep nothing for herself and give to us and even strangers.
Mum was as sharp as a tac. She loved reading and politics and loved a punt too. She was always up for a good debate. Her three loves were her family, her little dog and music, in that order. There was always music. Music in the house, music in the car and music in her cafe. She also loved to drive and cooking. Noone left her house with-out a food parcel of home cooked treats in their hands.
The earliest signs of dementia that I noticed was her telling me she felt, "not quite right, like she was in a dream" and that she had lost interest in things. I thought she was depressed because her sister had a recent stroke and she just couldn't come to terms with it. She started to cook less and stopped driving, saying her shoulder hurt. One weekend she came to stay with me in the country and she put the electric kettle on the stove and set it alight. This was a shock for her and couldn't work out why she did that.
Upon returning home, where she lived with my eldest sister, she kept saying to her "is this the same house we always lived in?". As the months passed she kept saying she wanted to go home even though she was living in the same house she had lived for 40 years. She also would also confuse my other sisters house for her old house in Egypt many many years ago
We all cared for mum and kept her home for as long as we could. My eldest sister lived with her and I would care for her showering and personal needs. Some of my fondest memories with mum are fish n chips by the beach and the concerts we went to together. I enjoyed how much she loved music and to dance. She loved Abba and Michael Buble. Her favorite song was Hotel California and of course her little dog, Max.
Mums condition worsend as it does with Alzheimer's disease and we reluctantly put her in care. It was close to my home. I would visit with her 6 days a week, sometimes twice in one day. My sisters were there all the time. I think that made her feel she was still at home or somewhere familiar. It's so important to visit all the time
In January this year mum decided to stop eating. She lost interest in all food and ate only ice cream and custard. Eventually she only had liquid meals, which we struggling to get her to eat.
At the end of April She passed peacefully in our arms with all of her family present.
Mum never forgot us she always knew who we were and always told us, "don't be worried everything will be ok".
Helen, Melbourne VIC