Join us at our new location in Lithgow! Watsford Oval will be a great place to walk, jog or run - and beat dementia across that finish line!
Lithgow Pop Up is a great way to complete your kilometres at a time that suits you. Get active and fundraise any time between 8am to 10am, you will find us at Watsford Oval across from JM Robson Aquatic Centre.
As a bonus, you'll also receive a MW&J T-shirt and exclusive Pop Up bag full of goodies on the day of the event.
The difference you make by registering
From the moment you register for Memory Walk & Jog, you're helping us to provide vital support services to the estimated 153,000 people with dementia in New South Wales. Your fundraising also drives our non-stop research partnerships, where talented Australian scientists can work towards a possible future without dementia.
Register for Lithgow Pop Up
You're just a click away from getting active and striding ahead for dementia!
Choose to register as an individual or a group.
It's never been easier to get active your way and help us beat dementia to the finish line!
Please note there is no set course for this event. We provide the start/finish, as well as an event site. You will be unsupervised whilst completing your kilometres, however there will be first-aid available at the event site.
Be one of the first 200 people that register to receive a free t-shirt and a Lucas' Papaw tube!
Download the location map below.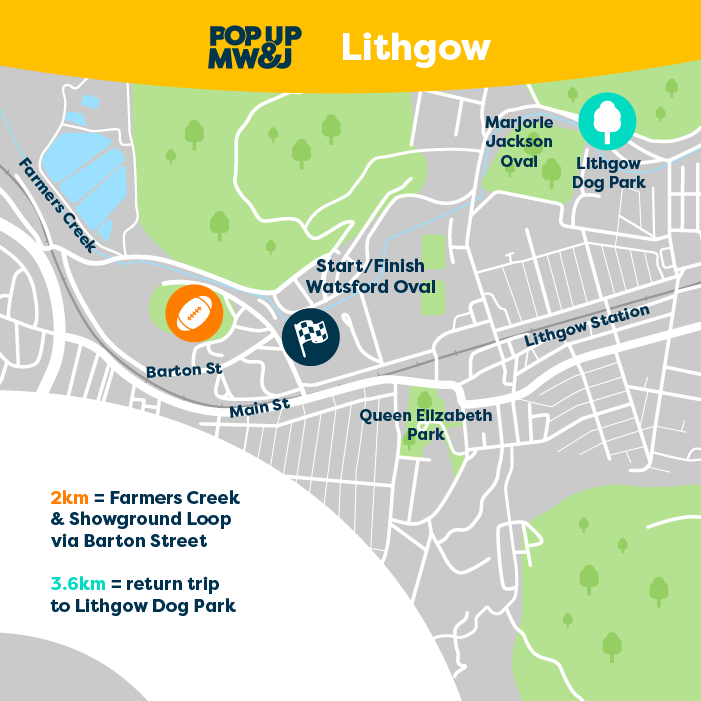 You will find us at Watsford Oval and we suggest the best parking is next to the pool carpark.
Your health and safety is our top priority and we are committed to holding safe events. We are working with local council and state governments to comply with all current regulations, restrictions and health advice.
Read the most up to date information regarding COVID-19 and your event.
Elva Plummer just donated $165.00
Elva Plummer just donated $15.00
Kati Lane just donated $58.58
Daz just donated $21.30
Rod Care worker just donated $30.00
Gabby Urwin just donated $58.58
Vernita Pieper just donated $30.00
Deborah Jury just donated $21.30
Jennifer Greenstreet just donated $53.25
Bev Grazier just donated $30.00
Anonymous just donated $21.30
Anonymous just donated $21.30
Suzie just donated $55.00
Jonathan Sequeira just donated $100.00
Lisa just donated $50.00
Mina just donated $58.58
Tom O Grady just donated $31.95
Darren Lane just donated $31.95
Liam Judson just donated $31.95
Karlie just donated $58.58